Automated submissions of prior authorizations and referrals is more achievable than you might think.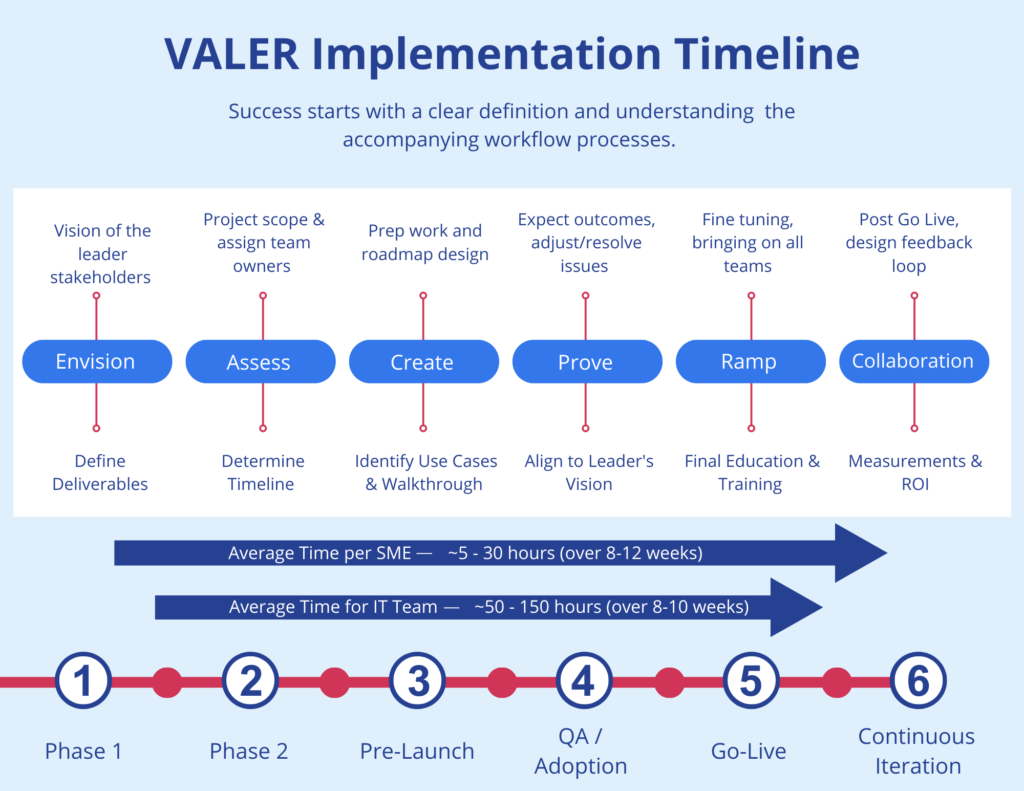 In today's environment, the future for prior authorization automation is critical, and has become essential for healthcare systems to deliver timely care to patients. Automated submissions are changing healthcare with insights that help identify missing required patient information, clinical data, and payer turn-around times. Key decision makers are able to proficiently stay on the cutting edge by collaborating and creating revolutionary modules. Want to get caught up and hear how implementing VALER will help you to see big gains and results? Success starts with a clear definition and understanding the accompanying workflow processes.
1. Vision
     The first step is the vision of the organization's leaders and stakeholders. Outlining the objectives of what's possible, how to make it happen, and how to understand all the details of current processes. Success starts with a clear definition and understanding the accompanying workflow processes and tailoring VALER to support patient care, and a more satisfying work experience for clinicians and staff. What is needed to create, implement, and sustain your instance ofVALER – workflow; And the reason workflows are so important is that it drives the build to deliver efficiencies as well as accurate and reliable insights.
2. Workflow
      Workflow determines everything from integration to every aspect of VALER that is deployed. This is why the number one component needed for successful implementation is understanding the workflows. Configuring and tailoring VALER to ensure the solution supports effective clinical processes and complements efficient workflows requires input from SMEs, Superusers, and the employees they report to to be intimately involved in every detail of shaping VALER. Together we observe everything that happens before and after where VALER is going to be slotted in. We do detailed observations of the customization features in VALER: authorization fax forms, authorization portals, NOAs, eligibility, referrals, as well as whatever is contracted. In summation, we take the hive mind knowledge that exists in scattered papers, PA "bibles" and user's brains and put as much in the design and build as possible. When staff feel included in the development process, the adoption is faster and optimized. Identifying insurance portals that yield the highest value to build-out technology and take advantage of the automation submission time-saving features will help recognize ROI during pre-launch.
3. Portal Integrations
     To boost productivity and improve outcomes with technology we do a deep dive into the vagaries and different paths the portal authorization submissions take and integrate that into your instance of VALER.  Because we know it can be a struggle to keep up with the changes to insurance portals, our software is specifically designed to help you accomplish connectivity reliably and efficiently. That's what VALER is all about—maximizing productivity of each user while staying apprised of changes to portals. Our technology is not confined to incremental change and it is why fine-tuning and constant feedback is on-going throughout the design phase and entire implementation.
4. Interior Design Phase
     This phase is what we refer to as the first version of their instance of VALER, and as they start providing more and more input into what to name specific fields, which order they want to see these fields, what they want in their VALER grid view, and even what colors they want certain things to be. The goal is to make VALER as intuitive as possible for each client. While workflow tentpoles are the same across the board, the details in the workflow are all as different and unique as each department and each organization. We have yet to see two workflows look the same even within the same facility.
5. Continuous Iteration
     One way to drive trust in automated submissions is by giving end users the ability to be intimately involved in the refinement and to provide consistent feedback. First, this allows them to see more into the inner workings of VALER, which helps with the adoption. Second, it will inevitably improves and tailors the tool to their processes. Third, when users feel included in the development process, the better their experience and partnership for creating new modules in VALER.  In a recent interview titled "OHSU – When great isn't good enough" two leaders in this space share their excitement on the key components needed for an effective implementation and ongoing collaboration.
Learn More – – If you would like to hear more about VALER we encourage you to check out what our partners are saying. Automated submissions of prior authorizations and referrals may seem like a tall task to implement, simply stated with the right vision and direction—it's more achievable than you might think.